"There are a range of visa options available to family members who wish to migrate to Australia."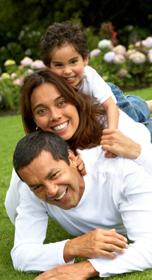 Family Migration
Partner visas - If you are married to, intend to marry or live in a de-facto relationship with an Australian citizen, permanent resident or New Zealand citizen living in Australia, your partner may sponsor you for permanent residence in Australia.
Parent visas - This visa enables a person with children who are Australian citizens or permanent residents to be sponsored for migration to Australia. Eligibility depends on how many children the applicant has, and how many of them are living permanently in Australia.
Aged Dependent Relative Visa - This is a permanent visa for older people who are single and financially dependent on an Australian citizen or permanent resident.
Remaining Relative Visa - This is a permanent visa for people whose entire family is living permanently in Australia and who have no close relatives living outside Australia.
To receive a professional 'Family Migration Visa' eligibility assessment, please complete our free online assessment form.